Kedves Pácienseink!
Felhívjuk szíves figyelmüket, hogy a szálloda felújítási munkálatai miatt 2019. február 18-tól klinikánk recepcióját a Thermal Hotel Főbejáratánál, a földszinten jobbra találják.
Kérjük, hogy érkezésük után ott legyenek szívesek bejelentkezni.
Megértésüket köszönjük.
Preparing for the eligibility eye exam
You may have breakfast before the examination, please do not come to the exam fasting.
The examination will take about 1.5 hours. Your pupils will be dilated with eye drops, making your eyes sensitive to light, and you will not see close, maybe distant, objects clearly. Therefore, driving a car after the exam is not recommended. You may find it useful to bring along a pair of sunglasses for the exam, because they will significantly decrease light sensitivity.
Do not use your soft contact lenses for 6 days, and your hard contact lenses for 4-6 weeks prior to the exam (especially, if you plan the treatment right after the exam). Failing to do so may corrupt test results!
Ladies are kindly asked not to wear makeup.
Please bring along your earlier ophthalmology and internal medicine medical documentation.
The result of the examination is valid for 3 months. After 3 months, the exam must be repeated before the correction surgery.
All through the examination, the most state-of-the-art equipment is used so that our Ophthalmologists will tell you the results you may expect from the laser vision correction. We do not perform the surgery, if there are any medical contraindications.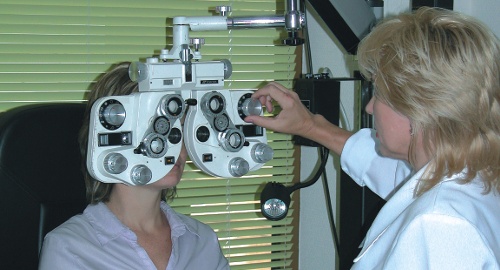 All Determination of eligibility for surgery and the expected outcome is based on several hundred measurement data.