What are the steps of laser vision correction surgery?
The first step is a thorough, detailed eye examination at our clinic
At the end of the examination, the patient receives a detailed report of the outcome he or she may expect, based on our previous experiences. We only begin the treatment if we are sure that the patient will be satisfied with the final result.
An integral part of the examination phase is a consultation with one of our Ophthalmologists, where all of your questions are answered in detail.
Patients have to make an appointment for the ophthalmologic examination. The examination takes about 1.5 hours, and is completely painless.
The laser surgery may be performed no sooner than one day and no later than 3 months after the detailed eye exam.
The second step is the laser vision correction itself
The surgery is preceded by administering anesthetic eye drops for local anesthesia.
The correction surgery is absolutely painless. The operation takes about 5-10 minutes, and you may experience that your vision has improved right after the surgery.
The surgery is completely controlled by a computer, with the Ophthalmologist and the clinical engineer supervising the operation of the laser equipment.
The laser vision correction is an outpatient intervention, patients may leave the clinic as soon as the surgery is over.
Patients are asked to return for very short checkup appointments, taking only a few a minutes.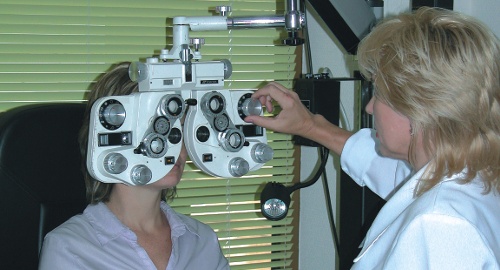 The eye examination and the laser surgery are painless.